The Importance of Flossing at Least Once Each Day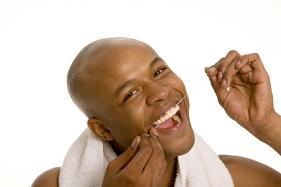 Often patients ask us how many times per day they should floss. You can floss once a day and that should be sufficient. You don't need to overdo it or skip the activity. Flossing once a day will support your oral health, as long as you brush at least twice a day as well.


Flossing Gets Rid of the Plaque and Food Between the Teeth

When you floss each day, you can remove the plaque and food that can lead to dental decay and gum disease. Brushing your teeth and neglecting to floss will not provide you with enough protection. When you floss, you also remove the residue and debris that you cannot reach with a regular or electric toothbrush.


Flossing Improves Gum Health

When you can remove food and plaque between the teeth, you also toughen the gums, keeping them from moving away from the teeth or receding. By taking 2 minutes per day to floss and 2 minutes, twice daily, to brush your teeth, you can prevent the onset of gum disease.


Flossing Removes the Odors and Germs Associated with Bad Breath

When you remove food particles from between the teeth, you also remove the bacteria that causes bad breath. You should also use a tongue scraper to keep your breath clean. To reduce problems with halitosis, you need to remove the underlying reason for the problem. Flossing allows you to get rid of the debris that leads to mouth odors over time.

Do you floss daily? If not, you need to floss your teeth once a day. Maybe you are not sure how to floss. If so, you can always give us a call or ask us to show you during your dental appointment. We want to ensure the health of your gums and teeth. Give us a call now to set an appointment for a cleaning and exam.