A Tongue Piercing Can Leave Your Teeth and Gums in Peril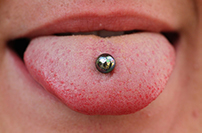 While some people like to express themselves by having their tongues or lips pierced, the practice can lead to serious oral health issues for people who wear adornments in their mouth or display the hardware on their lips.


Why a Tongue Piercing Can Hurt the Inside of Your Mouth

To understand why a tongue piercing, or any oral piercing, can wreak havoc on your dental health, it is essential to define the exact nature of an oral piercing. People who have oral piercings can get them on the inside of the mouth, on the tongue's surface, on the lips, inside the cheek, or on the frenum. The frenum represents the tissue that connects the lips or tongue to the gums or floor of the mouth. While oral or tongue piercings may express your individual style, they do nothing to improve your oral health or the looks of your smile.


Oral Piercing Dental Complications

Because the mouth is swarming with bacteria, one of the last things you really should do is to pierce the tongue or any area inside or around the mouth. For instance, if the tongue becomes swollen, it can lead to problems with breathing. For patients with heart disease, tongue piercings can build up the bacteria in the body, which can damage the heart's valves. Moreover, a tongue piercing can place you at additional risk for gum or tongue bleeding and infections. You have a large number of blood vessels in the oral cavity. Therefore, you can easily develop a bleeding problem. Oral piercings simply are more problematic than fashionable. Not only can the jewelry break off in the mouth, but it can also chip or fracture the teeth and make it difficult to chew or speak. If your tooth develops a fracture that goes deep inside it, you may need to get a root canal or have the tooth extracted.

The American Dental Association advises against tongue piercings because of the complications that can develop because of wearing the jewelry. If you currently have tongue piercings, give us a call to check for damages to the enamel or the gums. Stop wearing the jewelry, especially if you have already developed some serious dental issues.