Are There Any Foods that Reduce the Chance of Getting a Cavity?
Posted on 12/21/2020 by Brandon Cooley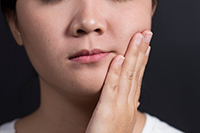 What you eat can impact your overall dental health. While some foods tend to cause cavities, there are foods, as well, that can prevent the formation of cavities.


What Foods Reduce Your Risk of Dental Decay?

According to the American Dental Association (ADA), foods with fiber, such as fiber-rich vegetables and fruits, keep both the gums and teeth clean and free of cavities. They also increase saliva flow, which provides a natural defense against cavity formation and gum disease. In fact, about 20 minutes after you eat a food with starches and sugar, your saliva starts to dilute the enzymes or acids attacking the teeth. Because saliva contains small amounts of phosphate and calcium, it restores minerals to the teeth that have been affected by acids in the mouth. Other foods that are anti-cavity foods include cheese, plain yogurt, and milk, all which rebuild tooth enamel. You can also benefit from drinking green tea, whose polyphenols reduce plaque by killing the bacteria that causes acid attacks.


What Foods Cause Cavities?

Foods that lead to cavities include sticky sweets and candies, whose sugars cling to the teeth. Starchy foods, such as potato chips, that can get caught between the teeth, and carbonated soft drinks, which, if not sugared, contain citric acid and phosphoric acid, both of which wear down the enamel. Among sugary treats, the ADA recommends chocolate, as it washes off the teeth more easily than other types of candies. Processed foods, starchy foods, and sugary treats all should be avoided if you want to have better dental checkups.

Your diet as well as a regular routine of dental care both contribute to healthy teeth and gums. Make sure what you eat will reduce your chances of getting cavities while taking regular care of your smile. We want to support your dental care routine. Make sure you schedule regular dental exams and cleanings every 6 months. Give us a call for an appointment for an exam today.