Are There Natural Dark Spots on Your Teeth That May Not Be Cavities?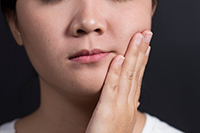 Dark spots on our teeth need not always be cavities. Naturally occurring dark spots caused by staining of the teeth are a common condition that very often goes undetected. Tooth discoloration is usually present in the very small pits and ridges on the surface of human teeth. Pit stains on our shirts are an apt analogy. They're embarrassing, and we are better off without them. It's the same with dental pit stains.


What Causes Natural Dark Spots on Our Teeth?

Tannins in wine and tea can stain the teeth. Tobacco discolors the enamel. Dark-colored fruit juices are another reason. Over time, these stains build up and can form a permanent patina. This is likelier to happen if a person's oral hygiene routine is poor. Regular brushing, flossing, and gargling can prevent stains from hardening.

Aging is a big reason why our teeth begin to appear discolored. Genetics is another. Just as complexions vary, so does the degree of natural whiteness and propensity for staining. Age-related hormonal imbalances during puberty or menopause can also cause tooth discoloration.

Naturally occurring dark spots on our teeth may range in color from yellow to black. The stains may be prominent or visible when we smile wide. The stains, streaky or splotchy, appear over time because of our eating habits, health, and lifestyle.


Are Naturally Occurring Dark Spots Harmful?

These dark stains do not harm the teeth. Sometimes, if the stains appear because of plaque and tartar, the accompanying bacteria build up may harm teeth and gums. Generally, the issue with these stains is that they can and very often do affect our appearance. Stained teeth can hamper confidence, especially if your work requires regular interaction with people.

Do not let these naturally occurring dark spots rob you of your beautiful smile. Get in touch with us. We have the experience and expertise necessary to guide you toward the best course of action for white and healthy teeth.