Best Foods to Keep Cavities Away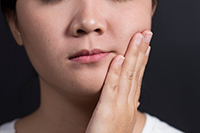 If you want to prevent cavities, you may think that the best thing to do is to eat less. That simply isn't true. You don't have to go hungry in order to keep cavities away and adding these items to your diet can protect your teeth.


Cheese

Cheese is a great option for cavity prevention for many reasons. First, it is high in calcium, which is the nutrient responsible for maintaining strong teeth an enamel. Researchers have also found that after eating cheese there is a significant change to the pH value of plaque, and by raising pH levels while triggering the formation of saliva, cheese can actually help to re-harden the enamel.


Nuts

Nuts are a good source of protein, and they also contain phosphorous and calcium, which help to strengthen the enamel just like cheese. They also fill you up, so when you have a handful of nuts for a snack, you'll be less likely to reach for a candy bar or some other high-sugar treat.


Apples

Another way to keep cavities away is to add an apple to your daily menu. Apples are fibrous and crunchy, and they can help to scrub the teeth clean of plaque, bacteria, and other debris. Like cheese, apples also stimulate the production of saliva, which further rinses off the teeth.


Seafood

If you enjoy a night out at a fancy seafood restaurant, then you are in luck. Seafood can actually help to keep cavities away. Shellfish, lobster, and fish are good sources of lean protein, and many varieties contain fluoride. Fluoride reduces the risk for tooth decay just like the fluoride found in municipal drinking water.

While your diet is certainly important when it comes to cavity prevention, don't forget that regular dental cleanings and checkups are essential. Call us today to get your next appointment added to the schedule.